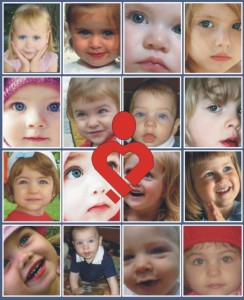 Asociatia Caritabila Sfanta Melania este o asociatie crestina, umanitara si de binefacere, care si-a formulat dorinta fireasca de ajutorare si sprijin pentru categoriile cele mai vulnerabile ale societatii: copii foarte saraci, orfani, copii ai strazii, copii care nu pot beneficia de suportul matern.

Activitatea noastra este patronata de Sfanta Melania.
Sfanta Melania a trait in perioada ( 384 – 423 d. Hr.) si prin actele sale de caritate si dragostea sa pentru oameni si Dumnezeu a ramas nemuritoare in istorie si mereu prezenta in constiinta umanitatii.

Proiectele asociatiei noastre sunt comune cu ale dumneavoastra: persoane de bine si cu suflet bun. Copiii sunt foarte cuminti, frumosi, destepti si sanatosi insa majoritatea provin din familii monoparentale, locuiesc la domiciliile lor insa in conditii improprii dezvoltarii unui copil.Copiii nu sunt institutionalizati. Asociatia noastra isi propune sa rezolve sau sa aline problemele de viata ale acestor copii , de asemenea a persoanelor cu dizabilitati, mult mai putin norocosi decat noi. Dorim ca impreuna sa gasim rezolvarea celor mai grave si diferite probleme pentru un numar de copii defavorizati, care, beneficiind de hrana, educatie, ajutor medical, posibilitatea invatarii unor meserii, cursuri, consiliere, ajutor material de urgenta vor reusi sa isi aline suferintele .Intentionam pentru viitor, construirea centrului social pentru copii abandonati .

Asociatia Caritabila Sfanta Melania doreste sa realizeze proiectele sale, in urmatorii ani prin ajutorul acordat zi de zi, de catre voluntarii nostrii, cu generozitate si speranta intr-un viitor mai bun pentru micutii aflati in dificultate. De asemenea, pentru obiectivul nostru ne stau alaturi, prin sustinerea lor morala si materiala, finantatori, sponsori, donatori din tara si strainatate, prieteni apropiati si rude, simpatizanti carora le multumim, aratându-le dragostea si recunostinta noastra si a copiilor."Pentru ca toti copiii sa fie fericiti !"


FR:Saint Melania charité est une association chrétienne, humanitaire et de la charité, qui a fait le désir naturel d'aider et de soutenir les plus vulnérables de la société: les enfants très pauvres, les orphelins, les enfants des rues, les enfants qui ne sont pas éligibles à l'aide sein.
Notre travail est parrainé par Saint Melania.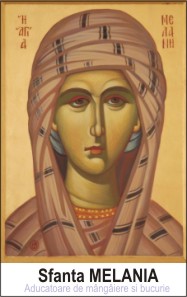 Saint Melania vivait dans (384-423 AD) et les actes de charité et d'amour pour les gens et Dieu est resté immortel dans l'histoire et toujours présente dans la conscience de l'humanité.
Projets de notre association sont communs à vous: les bonnes personnes et la bonne âme.Les enfants sont très bon, beau, intelligent et en bonne santé, mais la plupart viennent de familles monoparentales vivent dans leurs maisons, mais mal développement d'un enfant. Notre association a pour but de résoudre ou d'atténuer les problèmes de la vie de ces enfants aussi les personnes handicapées, beaucoup moins chanceux que nous. Nous voulons ensemble pour trouver et résoudre les plus graves problèmes pour un certain nombre de différents enfants défavorisés qui, avec de la nourriture, l'éducation, les soins médicaux, la possibilité de métiers d'apprentissage, de formation, de conseil, d'aide matérielle d'urgence sera en mesure de soulager leurs souffrances les. Nous prévoyons pour l'avenir, la construction d'un centre social pour les enfants abandonnés.
Saint Melania charité veut réaliser ses projets dans les années à venir en aidant chaque jour par nos bénévoles et généreusement espérer un meilleur avenir pour les enfants dans le besoin. De plus, notre objectif, nous sommes unis par leur soutien moral et matériel, les bailleurs de fonds, commanditaires, donateurs et à l'étranger, des amis et des proches, que nous remercions partisans, en leur montrant notre amour et notre gratitude et les enfants.
EN: Saint Melania charity is a Christian association, humanitarian and charity, which has made natural desire to help and support the most vulnerable of society: very poor children, orphans, street children, children who are not eligible for support breast.
Our work is sponsored by St. Melania.
Saint Melania lived in (384-423 AD) and the acts of charity and love for people and God remained immortal in history and always present in the consciousness of humanity.
Projects of our association are common to you: good people and good soul.Children are very good, beautiful, smart and healthy but most come from single parent families live in their homes but improperly development of a child. Our association aims to solve or alleviate the problems of life of these children also people with disabilities, much less fortunate than us. We want together to find and solve the most serious problems for a number of different disadvantaged children who, with food, education, medical aid, the possibility of learning trades, training, counseling, emergency material aid will be able to alleviate their sufferings. We plan for the future, building social center for abandoned children.
Saint Melania charity wants to achieve its projects in the coming years by helping every day by our volunteers generously and hope for a better future for kids in need. Also, our goal we stand together by their moral and material support, funders, sponsors, donors and abroad, close friends and relatives, whom we thank supporters, showing them our love and gratitude and children.
SUSTINEM PORTALUL CARITATII WWW.IMPARTE.RO, MULTUMIM OAMENILOR CU SUFLET DE LA ACEST PORTAL PENTRU GRIJA PE CARE O POARTA COPIILOR DEFAVORIZATI

next post »
Most useful Latin Internet Dating S....
Most useful Latin Internet Dating Sites Reviewed in 2019 On line sites that are dating revolutionized the entire world of relationships. Individuals longing for love but cautious about approaching other people might have relief through the protection of this internet. Web sites of the nature enable...
Posts with similar tags
No post with similar tags yet.
Posts in similar categories
ASOCIATIA CARITABILA SFANTA MELANIA
"Pentru ca toti copiii sa fie fericiti !"